BAS "The Aircraft"
From the ground up, the BAS aircraft Model "TD100" is an outstanding piece of purpose-built engineering. Every aspect of this remotely piloted aircraft system (RPAS) has been designed with the same attention to detail and rigour as a passenger aircraft. In fact from the outset the TD100 was engineered with a corporate mandate to meet or exceed the regulatory guidelines for todays commercial aircraft, an accomplishment which even now precedes any such legislation.
PAYLOAD/SENSORS
Co-designer Brian McLuckie sometimes refers to the TD100E as "The Canadian Shuttle." He uses the term because – though an outstanding platform – the aircraft is merely the enabler to put a myriad of technologies in the sky. The carrying capacity of the TD100E is 9.1 kg – or 20 lbs, more than enough to carry a wide variety of payloads – from sensors for measuring air quality to delivering critical medication to remote locations.
THE SOLUTION
Computer-assisted design, computational fluid dynamics simulation and wind-tunnel testing were used exhaustively in the TD100E's development. The fuselage and wing molds were precision-milled directly from the CAD drawings. Even the custom electronics were engineered, in partnership with Defence Research and Development Canada (DRDC), National Research Council (NRC) and CAE to eliminate aircraft-generated magnetic noise.
Complete Product Design, Engineering and Testing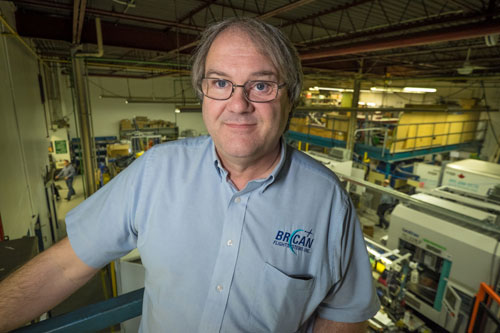 Brian McLuckie
In an industry where off-the-shelf systems are being promoted as breakthroughs Brican Aircraft Systems comes with an unparalleled pedigree. Its flawless production and mechanics come from Brian McLuckie – whose Brican Technologies Inc. is acknowledged as Canada's leader in custom robotic systems and factory automation. McLuckie also shares a background in aviation, and has designed and built aircraft he has flown.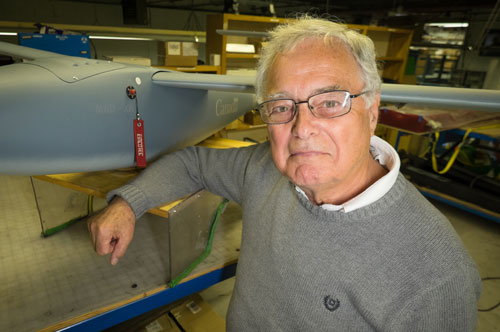 Brian Eggleston
Its aerodynamic design springs from the imagination of Brian Eggleston. With a career which spans nearly four-decades and includes the likes of de Havilland Aircraft which included managing the Advanced Design unit and directing Technical Design and Research. His career and reputation were built by designing and improving the safety, performance and efficiency of passenger aircraft. The TD100E draws on every aspect of his considerable expertise.
Brican Aircraft Systems has The Skills Needed To Develop a World Class Canadian Designed and Built RPAS Platform
Aerospace Engineering
and Avionics
The TD100 is the core of what will be a growing fleet of Brican small Unmanned Aerial Systems (sUAS). We take great pride stating that the development and ongoing refinement of this platform have been rigorous – with data-driven testing and quality control guiding every step. We have exploited our tremendous aerospace and engineering expertise in the production of this craft, which is capable of performing in conditions that would prove punishing or dangerous for a manned vehicle.
Experimental Prototyping
and Testing
Brican Flight Systems, a division of Brican Technologies, has been committed from Day One to produce the best fixed-wing sUAS platform available. That has translated into many thousands of hours of design and computational fluid dynamics work, followed by prototyping and real-world testing and refinement. In an age where there has been a "rush to market" by many manufacturers, Brican has taken a methodical and highly scientific approach to this aircraft. That's why it looks like it does – and why it flies like nothing else.
Advanced Composites
and Manufacturing
Whether it's the lightest and most flexible wiring harness – or the most advanced and reliable autopilot system available – Brican has spared neither time nor expense in search of the absolute best components to complement this aircraft. The fuselage and wings are manufactured in-house, using a virtually zero-error process involving the highest quality composites and alloys available. Brican has embraced a "Best Practices" philosophy, meaning the rigour and safety applied to Civil aircraft manufacturing is being applied to the TD100 and subsequent models.
Relentless Experimentation
and Innovation
At Brican, we are perfectionists. "Good enough" is not a phrase you'll hear in our facility. We are relentless in a continual process of refinements and innovation to ensure the TD100 is absolutely the most reliable, safe and efficient design available. Whether it's partnerships with the National Research Council (NRC) or the Centre for Aerospace Research (CfAR), we are continually working in concert with other experts to refine the TD100 to absolute and reliable perfection.
What We Have Achieved Is Only The Beginning …